Polypropylene (PP) Flute Board
Item : Conductive Plastic Sheet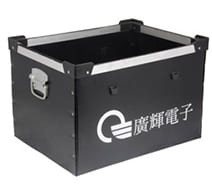 Description :
Color : Black
Denension : 200 cm * 182 cm (We also accept customized products.)
Thickness : 3 mm ; 5 mm
Impedance value : 10 3 -10 5 Ω OHM/SQ
Application :
To apply in industry, conduction box, conduction underlay, separator.
Conductive, acid and alkali-resistance, non-spontaneous combustion, impact-resistant,
light quality, cost reduction of the mold, multiplicity functional, delivery soon.
It's suitable for a small amount of various products and quantity producing.
It's also suitable for various kinds of industries.
Suitable for various kinds of industries, such as:
motherboard, semiconductor, color filter, transfer container, wafer foundry...etc.